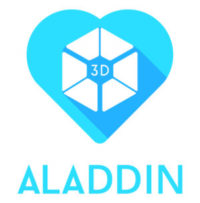 ALADDIN
ALADDIN is an ERASMUS + project tackling the integration of additive manufacturing (also known as 3D printing) in the health sector.
Additive manufacturing is a relatively new technology with a vast potential in the health care sector. However, due to the lack of knowledge, skills and its very complex value chain, requiring the cooperation of actors from different backgrounds, the technology has remained widely unexplored in the sector.
The project brings together six European organisations under the leadership of AIMPLAS (Technological Institute of Plastics, Spain) from the worlds of research with AMRC (Advanced Manufacturing Research Centre, UK), of innovation with ITEMAS (Medical technology Innovation Platform-Spain) and HIHI (Health Innovation Hub Ireland), of healthcare with HOPE (European Hospital and Healthcare Federation) and of training programmes with Jobs@skills (Belgian organisation specialised in training programs creation).
ALADDIN will develop until September 2022 a specific training programme in hospitals. Consisting of customised training contents for both target audiences; health professionals working in hospitals and engineering students with a future in the health sector. It will also include a teaching guide and an e-Learning platform. In addition, three multiplier events will take place in three different countries (Belgium, Ireland, Spain) during the course of the project to present the training courses and guarantee that the project reaches the target groups.
HOPE will lead the dissemination and communication activities of the project. With the goal of reaching all target audience and ensuring the proper exploitation of the projects results.
Survey
To achieve a training course that covers the needs of both health professionals working in hospitals (doctors, surgeons, anaesthetists, biotechnologists, laboratory technicians, etc.), and engineering students with future in the health sector, as well as, securing a better coordination and understanding between both sectors, the consortium has produced a survey, which will be open until 19 February 2021.
https://surveyjobsatskills.limequery.com/678157?lang=en
The information and personal data collected through this survey will be processed anonymously and will under no circumstances be reused for other purposes.