HOPE-PAQS Webinar: TeamSTEPPS
11 June 2019 - 3:00 pm

-

4:00 pm

CEST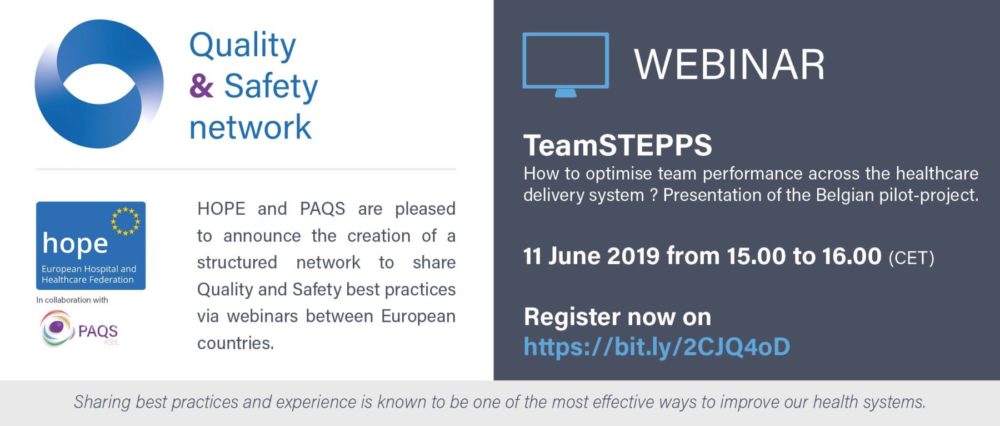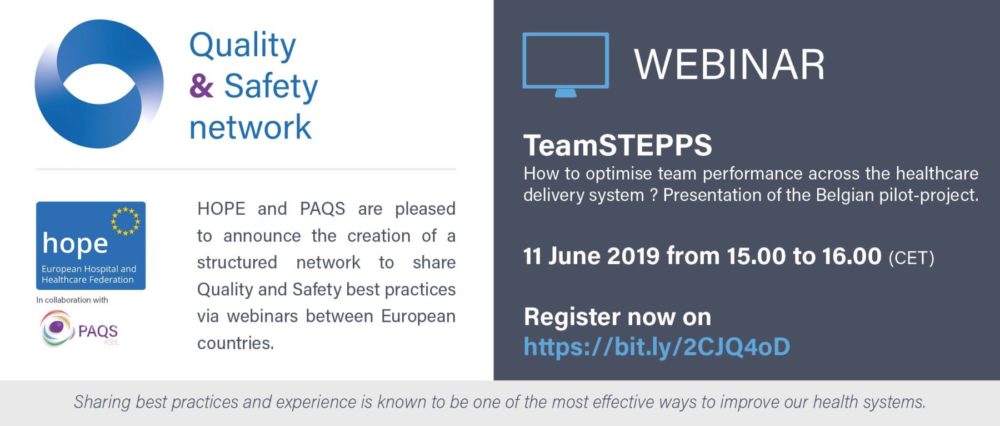 These last few years, HOPE and PAQS[1] have had several collaboration opportunities, e.g. HOPE study tours, presentations at the European Parliament and HOPE Agora. Sharing best practices and experience is known to be one of the most effective ways to improve our health systems and more particularly quality of care and patient safety issues. Considering the absence of concrete actions carried out by the European Union, we see an opportunity to develop a structured network to share quality and safety best practices between European countries.
Supported by HOPE members and their respective networks and by the expertise and resources PAQS holds, the creation of a "Quality and Safety network" at European level will:
Create/reinforce links between different organisations working on quality of care and patient safety in Europe;
Strengthen the image and visibility of the two organisations;
Increase learning opportunities and share best practices;
In the long run, facilitate the implementation of common projects in different European countries.
The Quality and Safety network will gather on a quarterly basis by means of educational webinars to present and share best practices across Europe.
If you want to stay informed, subscribe and register for the first webinar organised on 11 June 2019. It will present the TeamSTEPPS pilot-project which started in 2018 in Belgium. TeamSTEPPS (Team Strategies and Tools to Enhance Performance and Patient Safety) is an evidence-based framework to optimise team performance across the healthcare delivery system.
The objectives of the webinar are to:
Present what TeamSTEPPS is;
Describe the methodology used by PAQS in Belgium to promote the use of TeamSTEPPS;
Present the first results of TeamSTEPPS' implementation in Belgian hospitals.
[1] Created late of 2013, the Platform for Continuous Improvement of Quality of Care and Patient Safety (Plateforme pour l'Amélioration continue de la Qualité des soins et de la Sécurité des patients – PAQS ASBL) aims to promote, support and organise the development and implementation of initiatives of continuous quality of care and patient safety improvement in Brussels and Walloon healthcare institutions. Institutions affiliated to the Belgian hospital federations, that in turn are members of HOPE.