Quality and Safety Network webinar – Quality indicators and public reporting in Flanders
29 March 2022 - 3:00 pm

-

4:00 pm

CEST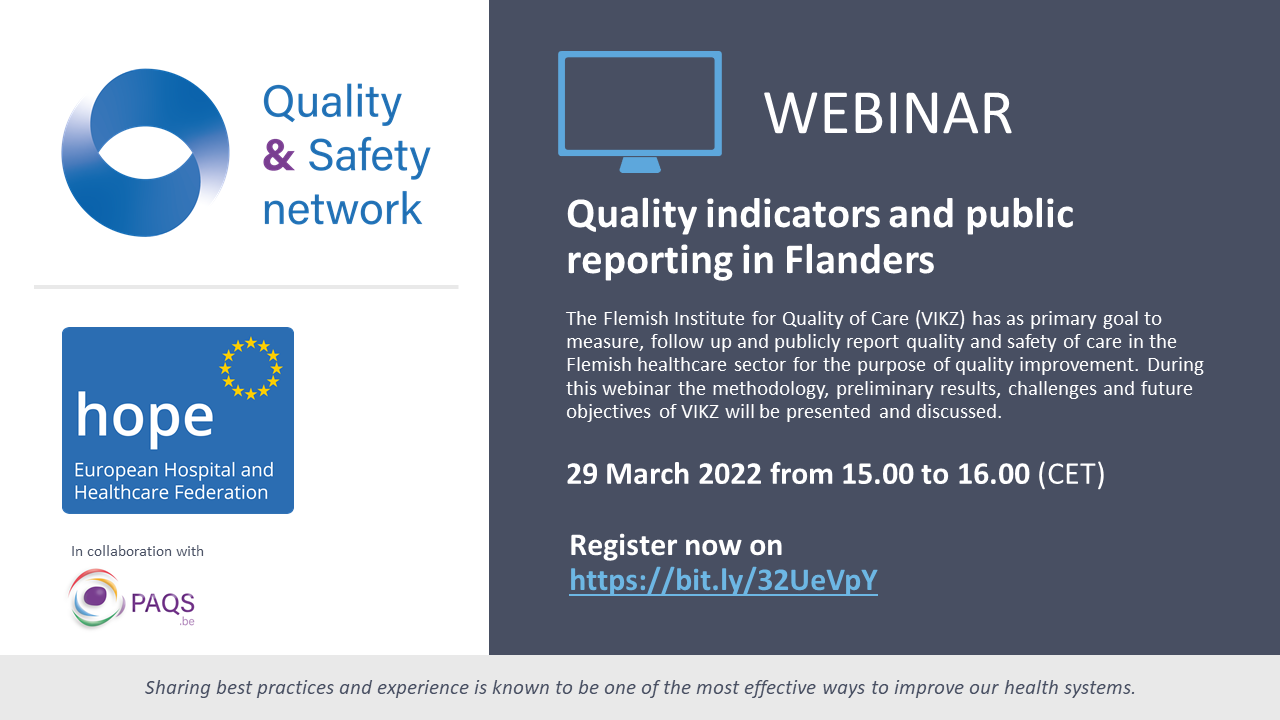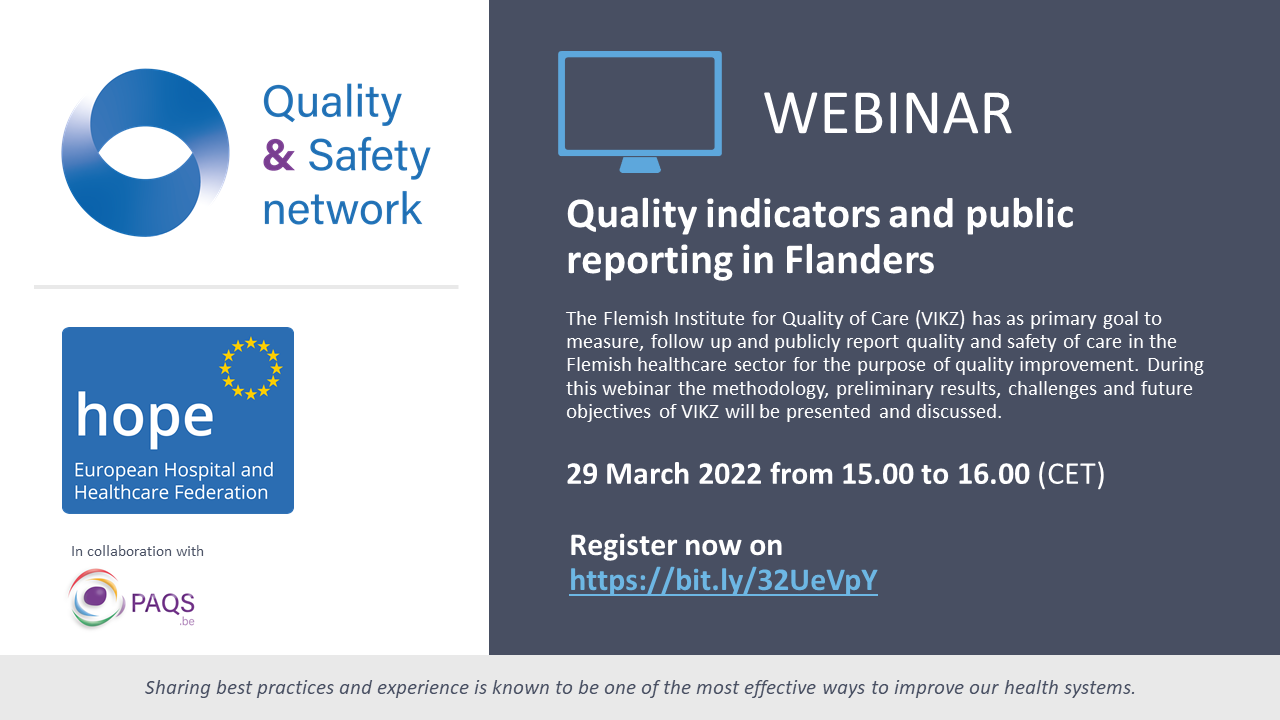 HOPE organised with PAQS its 11th patient safety and quality webinar on 29 March 2022 with a presentation of the VIKZ network, an organisation financed by the Flemish government, that has as primary goal to measure, follow up and publicly report quality and safety of care in the Flemish healthcare sector for the purpose of quality improvement.
Svin Deneckere, director of VIKZ presented the methodology used, gave an overview of preliminary results and discussed challenges and future objectives of the VIKZ. VIKZ was created to develop a core set of quality indicators, with the sector, according to uniform evidence-based methodology and facilitate public reporting of quality via the Zorgkwaliteit.be platform. It also coordinates and link quality initiatives, builds a knowledge network, strengthens dynamics around quality in Flanders. Its goal is to help building a future-proof, integrated Flemish quality policy, a policy support through indicators. At the same time, it stimulates research and training concerning quality of care and improvement.
The validity and reliability of the indicators are assessed by a Monitoring Committee. It ensures that the quality indicator has been developed according to the scientifically substantiated methodology and that the legal procedures concerning privacy are followed. The Monitoring Committee is also responsible for overseeing data protection and information security procedures.
A Scientific Advisory Board functions as a knowledge platform within VIKZ where experts and universities that are active in the field of scientific research on quality of care in the various sectors of VIKZ come together, with the aim of providing scientifically based advice. This Board includes representatives of the various professional groups, sub-sectors, patients, scientific bodies and governments not only to ensure sufficient support in the sector, but also to determine the domains within which quality indicators are to be developed, based on input from the sector, in coordination with the objectives and tasks of the VIKZ, and in coordination with other (quality) initiatives.
It also monitors the status of the various initiatives and development groups. The quality indicators are developed within development groups per domain. The development groups are multidisciplinary with both experts in the relevant domain, patients/care users, and potential data providers.  In addition, there is a broader Forum, where all stakeholders from the sectors can participate, and serves mainly as a communication channel to these sectors.
All this work is part of population health management: organise health policy at the level a healthcare region based on need for care, supply of care, consumption of care and quality of care.
The presentation is accessible here.