Quality and Safety Network Webinar: Development of Regional Strategy for Patient Safety improvement
6 October 2020 - 3:00 pm

-

4:00 pm

CEST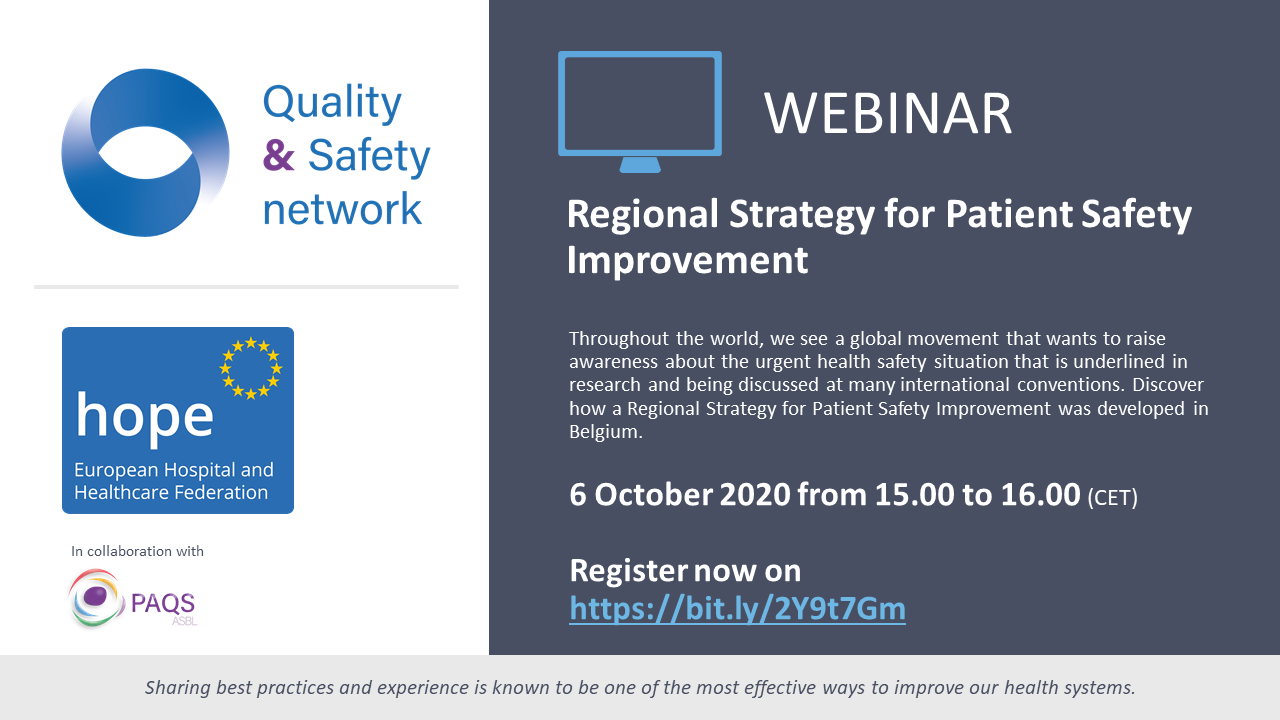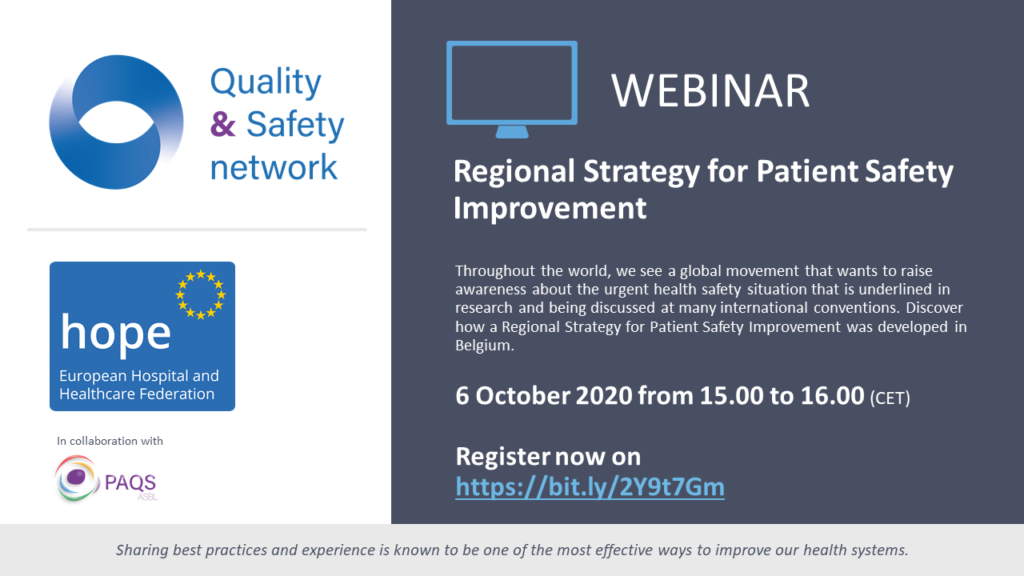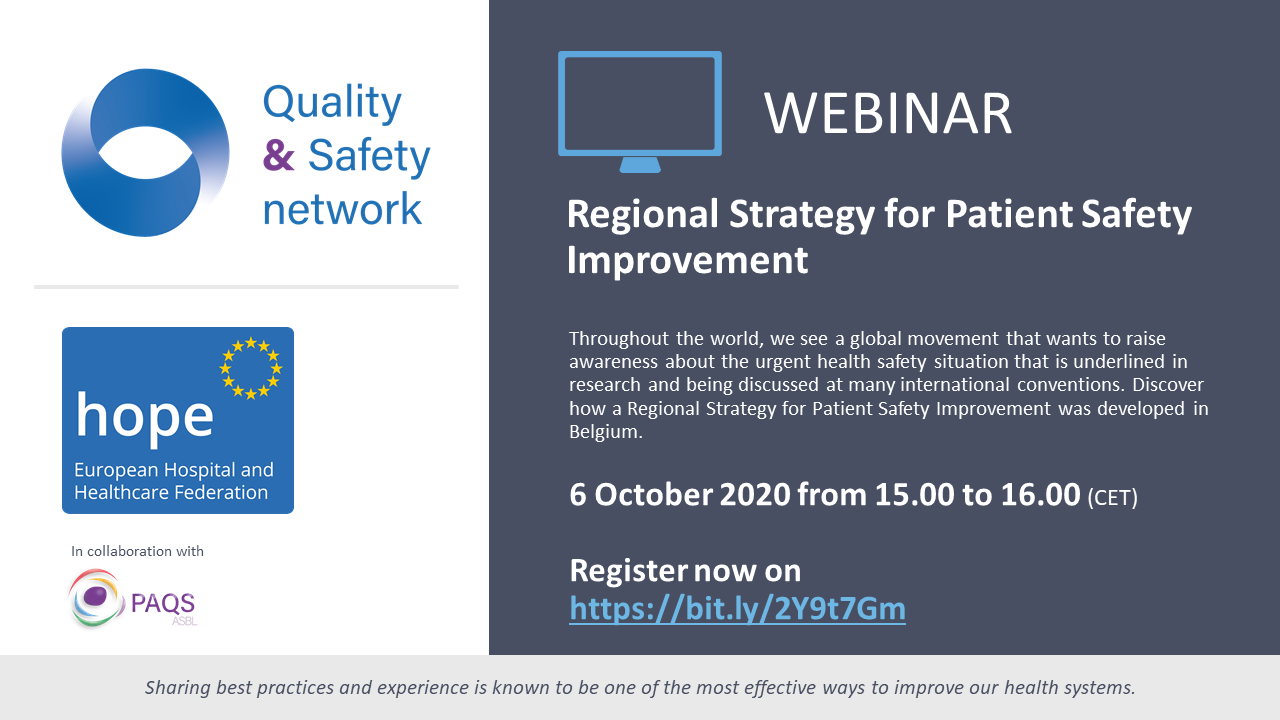 This Quality and Safety Network webinar was organised by HOPE and PAQS asbl on 6 October. It described the developments of a Regional Strategy for Patient safety improvement. 
This was the fifth webinar of the Quality & Safety network's series. It covered the development of a Regional Strategy for Patient Safety Improvement in Belgium. Denis Herbaux, CEO of PAQS started by giving an overview healthcare in Belgium to then present a regional quality and safety strategy.
Denis Herbaux started the webinar by reminding that PAQS aims to promote, support and organise the development and implementation of initiatives of continuous quality of care and patient safety improvement in Brussels and Walloon healthcare institutions.
Then he set the Belgian context reminding that there are two level of powers: federal and federated and three community based on languages as well as three regions based on geographical location. There is no primacy between the federal and the federated level: some competencies are managed at federal and other at federated level.
This creates complexity for healthcare to be managed. Indeed, Belgian hospitals are mostly financed by the federal level but regional authorities are responsible to define and apply norms and regulations for hospitals. Belgium had implemented patient safety plans for the period 2007-2017, but there were stopped and replaced by 'pay for performance' quality schemes at the federal level.
In the framework of the development of a Regional Strategy, PAQS carried a survey on 13 healthcare providers and 2 patients safety experts to look at:
System level interventions

Organisational (institutional) level interventions

Clinical-level interventions
The conclusions were similar to the ones from the OECD Report 'Economics of patient safety' (March 2017). There were gathered in a Memorandum and listed the top priorities to focus on: training of professionals, management of AEs, measures & indicators, safety standards and involvement of patients and families.
A 2nd survey was released at the end of 2018 and targeted health professionals to look at the current situation and how it could be improved. PAQS received more than 700 responses and extracted strategic actions from the results:
Monitoring and managing Patient Safety: there is a need for assessing the current situation, establishing regional priorities and defining action plans at different levels, monitoring the progress made and scaling up success stories.
Promoting Patient Safety: promoting awareness about patient safety for healthcare professional, patients, the general public and politicians.
Building a Patient Safety culture: development and strengthening of skills in terms of quality of care and safety of health professionals through lifelong learning and develop the reporting and analysis of serious adverse events in which process patients would be involved.
Regulating Patient Safety: Going towards mandatory reporting of serious/sentinel adverse events, imposing compliance to respect with safety standards in the regulation and developing public reporting of outcomes and actions undertaken to improve Patient Safety
Improving Patient Safety: Developing a "Patient Safety Officer" training, implementing ambitious action plans based on priorities and developing a comprehensive system of measurement.