EURO-CAS session at eHealth Forum 2017
21 October 2017 - 10:00 am
CEST
EURO-CAS organises the session "Ensuring Interoperability for Digital Health: a Conformity Assessment Scheme for Europe" at the eHealth Forum 2017 in Athens, on 21 October from 10:00 to 12:00. Mr. Pascal Garel, HOPE Chief Executive, will present the point of view of hospitals and the heathcare sector during the round table discussion.
Everybody talks about eHealth interoperability, about eHealth solutions communicating with one another along standardized interfaces, but what does it mean in practice? Providers, governments or payers need to mandate the standards and then assess whether eHealth solutions conform to these standards. For the assessment part, help is on the way: the EURO-CAS project is unveiling a proposed Conformity assessment scheme for Europe (CASforEU). Come to this session to learn more with the following agenda: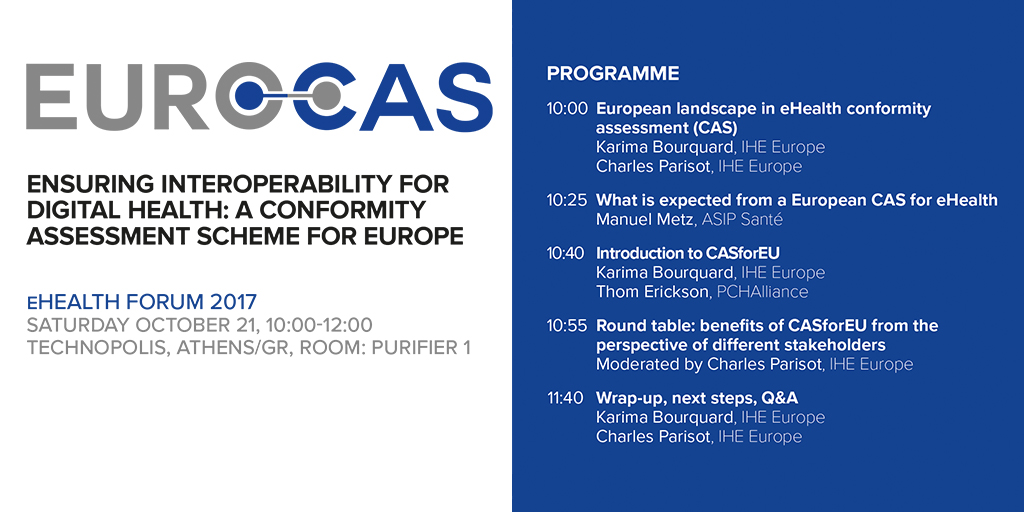 For more information about the eHealth Forum and the registration possibilities, please visit www.ehealthforum.org
Don't miss the next events and stay up to date with the EURO-CAS news by subscribing to the newsletter and on Twitter and LinkedIn.